Molecularium Planetarium Show
Saturday, January 13, 2018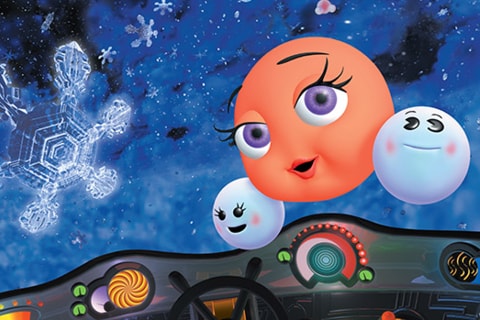 A magical, musical adventure into the world of atoms and molecules. After exploring the sky as we see it from Earth, this Dome360 experience takes you on a journey with "Oxy," "Hydro," "Hydra," and an amazing cast of atoms, aboard the most fantastic ship in the universe: the Molecularium. Molecularium brings kids on a musical cartoon adventure into a nanoscale universe created from accurate molecular simulation. Here they learn about the three states of matter as they travel into a cloud, watch a snowflake form, and count the number of water molecules in a rain drop.
Delta College Planetarium & Learning Center
100 Center Avenue

Bay City
,
MI
48708
USA
Phone: 989-667-2260
Website:
Click to Visit
Other Dates For This Event
Contact
Delta College Planetarium

Phone: 989-667-2260
Website: Click to Visit

Cost
$7/Adult; $5/Seniors, Kids, Delta Students, Mil.
Save this Event
iCalendar
Google Calendar
Yahoo! Calendar
Windows Live Calendar
Share this Event
Email to a Friend
Categories